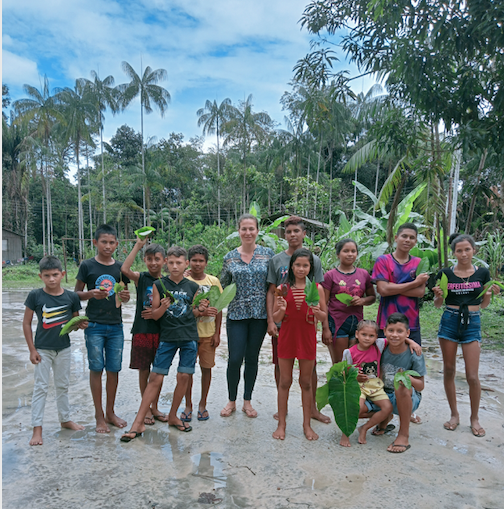 Our environmental Education project in the Amazon ended with success!
Peoples of the forest are its guardians and, for millennia, have lived in harmony with the surrounding environment. However, even in the most remote places of the Biome, new generations are facing difficult challenges: the transition to modernity, the use of technology and the approach to urban reality and consumerism.
With this pilot project, a partnership between Amazônia, Amazon Charitable Trust and CoopXixuaú, financed by Cerchi d'onda Onlus, we wanted to give new generations of people living in the forest some necessary tools to understand the value of a healthy and balanced environment and the need to keep it that way.
The project received the symbolic name "Rio de Luz" (River of Light), which links the river environment where the students live to the concept of light as a symbol of life and knowledge.
The activities, launched in January 2022 and concluded in June of the same year, involved five schools of the Jauaperi Extractive Reserve, in the heart of the Brazilian Amazon. The project wanted to offer the young generations of the beneficiary communities a model of environmental education in order to spread awareness about issues such as the value of the forest, its conservation, traditional knowledge, waste management, river water pollution and appropriate measures to avoid environmental degradation.
The lessons were held by an environmental education teacher, with the support of our staff and local teachers. The initiative received the patronage of the municipal school authorities and the support of the leadership of the traditional communities involved. Various methods were adopted to develop the goal: for the little ones we decided to carry out creativity and drawing activities; for the older ones, we opted for a greater depth of contents. The 70 pupils who benefited from the project watched videos and cartoons, listened to podcasts, had theory lessons and participated in practical training experiences such as separate waste collection. The activities were carried out both in classroom and outdoors, and allowed children and teens to independently reflect on the main themes of the course. Those activities made used various tools for each age group: games, drawing, music, creative and experiential workshops.
At the end of the course, a small ceremony was held to deliver participation certificates, in the presence of families, reinforcing the importance of environmental preservation in traditional communities and rewarding the commitment of the children and teenagers.
Today the Amazon Forest plays a crucial role in containing climate chaos and, therefore, in the future of humanity. The well-being of the forest also depends on the next generations of native inhabitants, who will be the most important guardians of this immense heritage of tropical biodiversity!
We thank all the participants, teachers and partners involved and we look forward to new collaborations in favor of the forest and for the future of the Amazon and humanity.