Exactly one year ago, on February 17th, Emanuela Evangelista, president of Amazônia Onlus, was appointed Officer of the Order of Merit of the Italian Republic by the President of Italy Sergio Mattarella, who spoke the following words: "For her continued commitment, at an international level, to protect the environment and the indigenous people, and to fight deforestation". At that specific moment, no one could imagine that only a month later – on March 11th, 2020 – the World Health Organization would have declared a pandemic. And we, Amazônia Onlus, could not envisage the challenges to come. In 2020, the Covid emergency had a devastating impact on the Amazon and, recently, it has intensified.
A new strain of the virus has swamped the health system in Manaus for the second time, and it is quickly spreading inland now. The daily oxygen requirement in the capital of Amazonas is 80,000 liters per day – 3 times the normal amount – and the local production cannot keep up with the tremendous demand. Indigenous and traditional communities have only one way to protect themselves from the virus: stay in the forest. 
The small Amazonian villages, which are isolated and accessible only by boat, have neither food shops, nor health care, nor medicines, nor emergency transport. This situation makes the inhabitants extremely vulnerable in case of infection. Fishing, hunting, and harvesting supply most of the food, but they also rely on exchanges with faraway cities. Isolation in these regions creates a food security problem. They need provisions, equipment for getting food, medicines, hygiene products, and goods for basic necessities.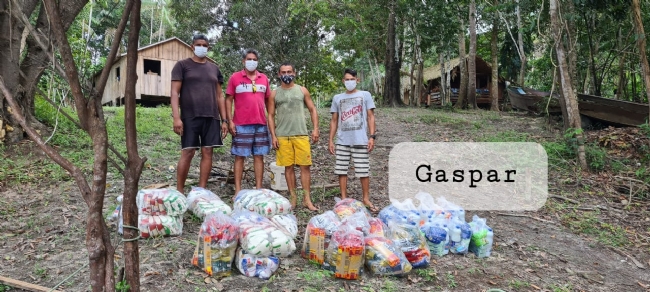 The lack of supplies can compromise their self-isolation attempt and endanger the entire population. For this reason, since the beginning of the pandemic, Amazônia Onlus has focused its actions to protect the natives from infection. It is a new challenge to us and we carry it out with the methods and the means typically employed by a humanitarian emergency organization. With our partner Amazon Charitable Trust we developed an action plan to increase the resilience of local communities, disseminated important information, rapidly transferred funds from Europe to Brazil, created and strengthened a network of organizations. Since April 2020, we have already delivered 40 tons of products to the 250 families of the Jauaperi National Park, with approximately 1,200 inhabitants.
Today, we are constantly in contact with the closest hospitals to which, with your help, we want to donate cylinders and oxygen concentrators. The forest is protecting us, but the emergency continues, and our campaign goes along. 
With € 100, we can guarantee food and basic goods to a family for a month.
With € 1,000, we can purchase an oxygen concentrator and save a life. 
Let's not leave them alone! Donate by clicking here.